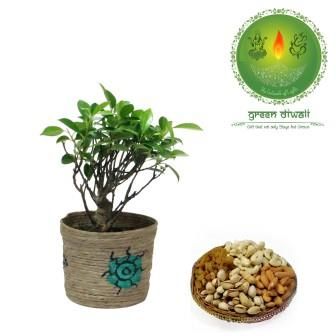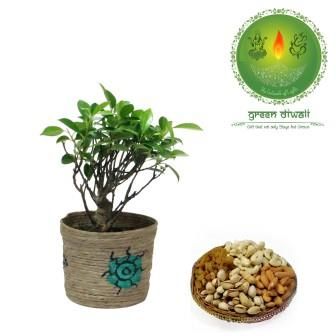 Diwali Gift I Shape Bonsai for Pride
The Diwali Gift I shaped Bonsai Plant Combo for Joy has the I shaped Bonsai plant in an intricate yet study Jute pot. It also comes with dry fruits-100 grams.The Product will be reaching the comfort of your home within 3-4 days. In case if you need early delivery please get in touch with our customer support.
Diwali Gift I Shape Bonsai for Pride
Diwali (or Deepavali) is also known as the Festival of Light. The word Diwali comes from the Sanskrit language and means 'row of lamps'. In South Asia, homes, shops and streets are decorated with small oil lamps called diyas. During Diwali, patterns, called rangoli, are drawn on floors. The lotus flower is one of the most popular patterns to draw. Diwali is celebrated every year on the darkest night of the month in October or November. The exact date changes every year to coincide with the new moon. With the new moon Diwali marks a new beginning and for many people it symbolises joy, love, reflection, resolution, forgiveness, light and knowledge. Diwali is traditionally a time for cleaning your home, decorating your house with lights and candles, wearing new clothes, painting henna tattoos on hands, giving presents, and getting together with family and friends. It's also the time to show your loved ones how much you value them and you can do that with the Diwali Gift I Shape Bonsai for Pride which comes with a I shaped bonsai on an simple yet rugged Brown pot. Bonsai's in general represent life and its everlasting bond's, as the bonsai connects with the earth, it's stand's there with its full resilience and firm yet calming strength. Make your bond stronger than ever with your loved ones by gifting them a Bonsai.It comes with a intricately crafted circular jutepot along with a delicious pack of exotic dry fruits.Bonsai are also low maintenance and that's why it's one of the most gifted items worldwide and as they say, you can't argue with a fan favourite.
Items Included
i shape ficus, half kg dry fruits,
Part Of
The plant Collection
FREE DELIVERY, HAPPINESS GUARANTEED
Each Item comes with a complimentary message card and item can be delivered at midnight
We're Making Headlines
"We love the flowers"
"Best Flower Shop
"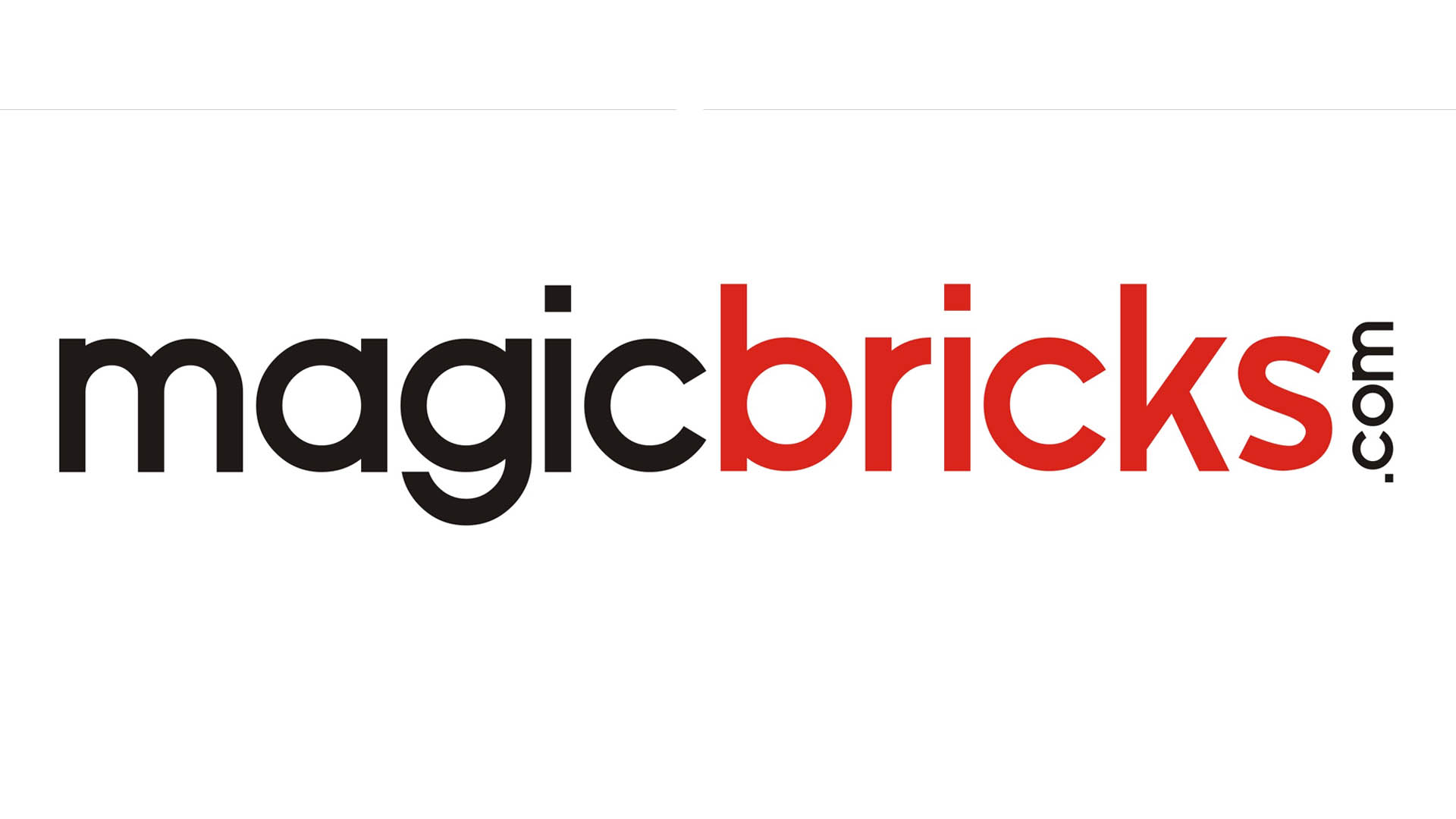 Our employees just love it