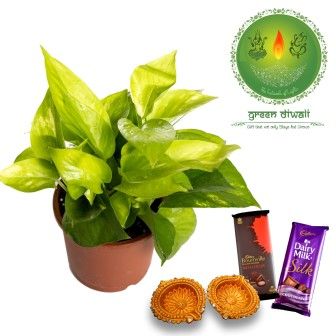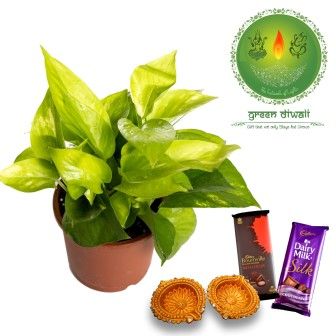 Diwali Gift Golden Pothos for Prosperity
The Diwali GiftGolden Pothos combo for Prosperity with 2 beautiful diyas, Cadbury Dairy Milk Silk and Bourneville (65 and 80 grams respectively) and the Golden Pothos in a sturdy yet intricate brown fiber pot.The Product will be reaching the comfort of your home within 3-4 days. In case if you need early delivery please get in touch with our customer support.
Diwali Gift Golden Pothos for Prosperity
Diwali is considered as the most significant and auspicious Hindu festival of India. The festival of lights, Diwali, is also celebrated by people of many faiths throughout the World with unparalleled pomp and pageantry. This mega-festival is the time for fun and frolic for all age groups. People illuminate their homes with hundreds of warm lights like earthen diyas and the skies with marvelous firecrackers to show their obeisance to the Almighty for the accomplishment of wellness, wisdom, peace and prosperity and to adhere to this festivites you need the perfect gift like the Diwali Gift Golden Pothos combo for Prosperity which comes with two beautiful diyas, Cadbury Dairy Milk Silk and Bourneville and most importantly the Golden pothos are both aesthetic and extremely durable, its never a hassle to maintain for one as they are extremely well kept and don't need a lot of external help.an excellent room purifier, it remains partially luminescent in the dark. The variety which we sell is disease resistant and perfect for any indoor spaces.The plant exudes elegance in so many ways and that's why it's among the most gifted plants.The plant comes in an intricate brown fiber pot.
Items Included
bournville chocolate (65 gms), golden pothos, dairy milk silk (65 gms), diya ,
Part Of
The plant Collection
FREE DELIVERY, HAPPINESS GUARANTEED
Each Item comes with a complimentary message card and item can be delivered at midnight
We're Making Headlines
"We love the flowers"
"Best Flower Shop
"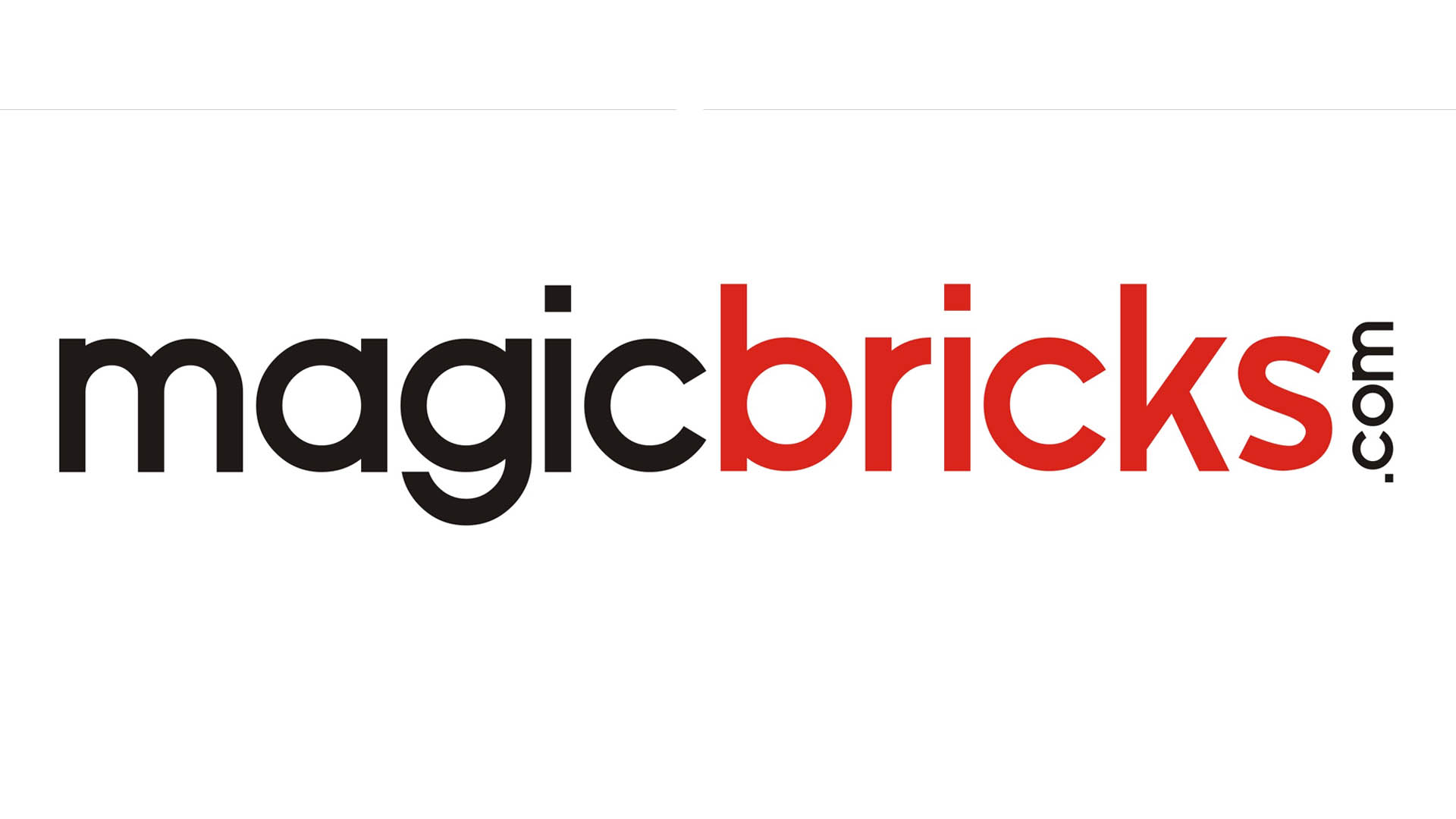 Our employees just love it